Note: All thoughts expressed here are my own as a relatively new member of MORE They do not represent any positions held by the caucus or other members.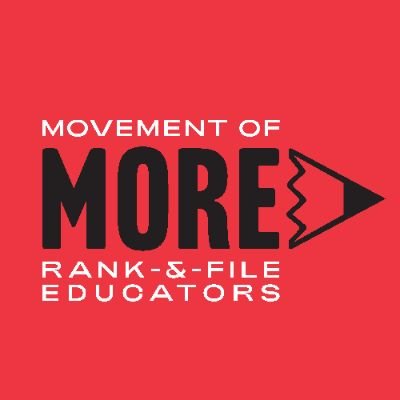 It's a beautiful day in New York today. I hopped on an express bus to head downtown to Union Square for a new member orientation held by the Movement of Rank and File Educators (MORE) — a caucus of teachers within the United Federation of Teachers (UFT). I arrived pretty early, which gave me the chance to stop by a delightful little coffee shop nearby for one of my favorite drinks, an iced lavender latte.
I first joined MORE about a year ago, after I was connected with a member of the caucus. This member's views on education and social justice seemed pretty congruent with my own, so naturally I was pretty excited to learn more about the caucus. My involvement with MORE up until this point has unfortunately been pretty limited, but that began to change recently when I got involved with supporting the United for Change coalition during the recent UFT elections. This is MORE's first new member orientation and meeting in-person since the COVID pandemic began, and I'm glad that I had the chance to learn from activist-educators with a similar political compass as my own.
I thought the meeting went incredibly well, and it was inspiring to learn from other educators that represent a wide range of career paths, union/caucus involvement, and organizing backgrounds. I'm particularly thankful to a few members who took the time to chat with me about starting my career as an educator and for the advice they so freely gave to me as an aspiring unionist and special education teacher.
Topics of discussion from the meeting included the creation of two additional positions within MORE to support the caucus's work, the launching of a membership recruitment and organizing drive, and a debrief of the recent election results and thinking about what a way forward for MORE looks like in the political landscape of the union. One thing that I think was clear after the election debrief is the need for our caucus to reflect on what our role should be in union electoral politics. Members of MORE represent a conglomeration of left-leaning political orientations, and I suspect that views on the value of electoral politics decreases as one goes further and further left. I'll leave my thoughts on that for a different post.
I wasn't involved with the formation of United for Change as a slate in this year's election, but I did get marginally involved much later in this year's election cycle. I won't pretend to know the finer pointers of caucus politics within the union, but it is something that I hope to learn more about in the future. By agreeing to form a coalition, the groups that made up United for Change agreed to collaborate around UFC's five points: smaller class size/improved staffing, fair pay, no corporate interests in education, rank-and-file empowerment, and community, safety, & equity.
I think other caucuses would agree with MORE that UFC's five points are certainly worth fighting for. I can also see how different caucuses and other groups within the UFT would differ on how exactly to achieve those goals.
Are election politics the way to achieve the vision for a social justice-oriented and militant unionism that MORE espouses as a caucus? I don't think so. I think we have decide if the optics of electability play a part in practicing MORE's Points of Unity. One of the great things about a caucus like MORE is that there's no party line to toe. Members can (and are encouraged) to debate topics and issues that are important to us.
From the first day that I joined the DOE as a substitute teacher, I was excited and proud to become a member of the largest local union in the country. I knew nothing about the political landscape at the time, but I'm excited to learn more and engage with the vision of social justice unionism that so many of my colleagues in MORE share. I don't know exactly what the future of our union and schools can or should look like, but I'm excited to explore the possibilities.